BACK TO SCHOOL!
All of us are active and want to remain active! Today, it is a part of a healthy lifestyle choice. Whether it is in the backyard beginning the Fall clean up, swimming in the pool, working out at the Gym, or walking the Park, pain in the shoulders or low back can be a reality for us all.
Add to our normally active lifestyle 'back to school' this week, and pain levels and stress can be pushed to their limits. New routines are being set up, programmes are being started and our schedules are becoming even tighter. Nagging shoulder and neck pain  and possibly the odd headache begin to creep in to our daily lifes.
Acupuncture is a safe, pain-free all natural alternative. Pain, headaches, stress, are all indicators of blocked energy. Circulation and blood flow have become compromised. The body's 'Chi' has dropped. Acupuncture seeks to balance and move the blocked energy in the body thereby increasing the flow of blood and restoring our 'Chi'. When an Acupuncture needle is inserted into a point or 'vortex of energy', messages are immediately sent to pain receptors in the brain which combine with the body's natural painkillers to weaken the pain signals.
After only a few short treatmens, clients report feeling more relaxed, lighter, and have more energy. Pain and stress are reduced and in some cases, disappear. There are no side effects to Acupuncture and it is a great way to de-compress!
| | |
| --- | --- |
| Posted by Paul C. Lewis, M.A. R.Ac, DNM, DO-MTP on February 3, 2018 at 6:15 PM | |
Please enjoy my personal story of my journey into Acupuncture. Thank-you Upshot!
How I'm Bringing Acupuncture into Patients' Homes & the Mainstream
I first became fascinated with the science of acupuncture out of need. Back in the nineties, while I was in graduate school, I became ill—inexplicably…
UPSHOTSTORIES.COM
| | |
| --- | --- |
| Posted by Paul C. Lewis, M.A. R.Ac, DNM, DO-MTP on November 27, 2017 at 12:35 PM | |
As Winter approaches, and the days become cold and gloomy, one is reminded of the important Acupuncture point Liver 3 or Tai Chong. It is referred to as the Great Surge as it explodes energy through the body. It is used to relieve stagnation and tonify Yin. Combined with LI4 (4 Gates Theory), it exerts a powerful effect on the body's Chi and Blood. Liver 3 is used to treat Depression, Anxiety, Blood Pressure Issues, Menstrual Issues, Eye Issues, Migraines, and Insomnia. Liver 3 is a won...
Read Full Post »
| | |
| --- | --- |
| Posted by Paul C. Lewis, M.A. R.Ac, DNM, DO-MTP on August 17, 2017 at 6:20 PM | |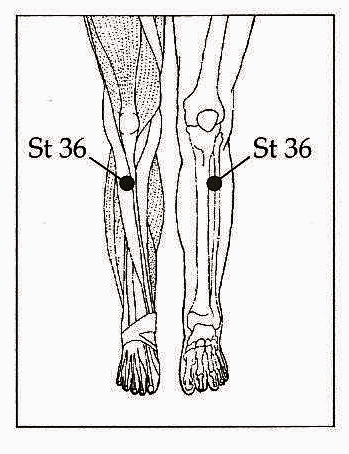 The Acupuncture Point Stomach 36 is a very powerful point often referred to as 'the lower sea of chi'. It governs the body's energy from the waist down. The Point is located just below the knee and is used to tonify or strenghen the body's chi and blood. It helps with low immunity, chronic illness, nausea, constipation, painful knee joints, low back pain, asthma, d...
Read Full Post »
The 'Merry Month of May'!
May for many is a beautiful month! The weather warms, and there is an abundance of colour with all the Spring flowers and lilacs blooming! It can be truly a month of great change and momentum! Ideas of new gardens, fitness goals,  new employment opportunities, cottage living, and maybe even a new car run through the minds of many!
For some though, it can be 'May Day', 'May Day'! Pollens, flowers, grasses, damp weather, ...
Read Full Post »
| | |
| --- | --- |
| Posted by Paul C. Lewis, M.A. R.Ac, DNM, DO-MTP on April 8, 2017 at 6:15 PM | |
Celebrate April by understanding what stress is and how it affects your body. Unrelieved stress can pose a serious threat to physical, emotional, and spiritual health. Stress can do wide spread damage to the body and can be a 'silent' threat. It can build over time and come from many different life situations...work, relationships, sports, family, financial, judgement by others, and from within.  Learn to recognize and reduce stress. Natural Medicine therapies such as Acupuncture, Osteop...
Read Full Post »
| | |
| --- | --- |
| Posted by Paul C. Lewis, M.A. R.Ac, DNM, DO-MTP on March 7, 2017 at 6:35 PM | |
Spring is just around the corner according to Groundhog Willie....not by looking out the window or at the thermometer! In a couple of weeks, Spring will officially be here! Bye-bye to Winter and all her snow and cold. It has been a long dark and often cold winter for many.
Re-invigorate, Re-energize, Build Your Immunity, Detox, Build Strength, Lose Winter Weight, Fill Out Facial Lines, De-stress....all great 'feel good' ideas for the coming of Spring. Spring is about feeling...
Read Full Post »
| | |
| --- | --- |
| Posted by Paul C. Lewis, M.A. R.Ac, DNM, DO-MTP on February 5, 2017 at 6:25 PM | |
Facial Rejuvenation Acupuncture
Are you feeling stressed and tired with dark circles under your eyes and a pale complexion? Would you like to feel more energized, less stressed, and smooth out the lines, and brighten your complexion? Cosmetic Acupuncture is a centuries-old technique, all natural therapy that smooths out the lines, reduces the signs of ageing, tightens the skin, and brightens the skin. It  has been around for 2500 years and requires no knif...
Read Full Post »
| | |
| --- | --- |
| Posted by Paul C. Lewis, M.A. R.Ac, DNM, DO-MTP on January 9, 2017 at 6:20 PM | |
Immunity and our Immune System
Immunity is critical to good health. The immune system is an integrated network of cells that protect our body in times of infection. The winter months are especially hard on the immune system as threats such as stress, viruses, and bacteria increase. Added to these threats is the decrease in  light and/or sunshine. The immune system struggles to survive against these external threats all the while protecting its organism.
Read Full Post »
| | |
| --- | --- |
| Posted by Paul C. Lewis, M.A. R.Ac, DNM, DO-MTP on December 5, 2016 at 1:20 PM | |
Holiday shopping, jammed parking lots, social gatherings, and the heightened level of our emotional body can all be stressful and negatively impact our immune system. The holidays are a time for family and friends and creating warm and lasting memories. Nobody wants to be down and out with a cold or the flu.
Fortunately, there are some preventative measures we can take to ward off those germs. Vitamin D, C, B Complex and Zinc all help to keep our immune systems strong and he...
Read Full Post »
| | |
| --- | --- |
| Posted by Paul C. Lewis, M.A. R.Ac, DNM, DO-MTP on November 3, 2016 at 11:40 AM | |
November is Movember. It is all about Men's Health and their awareness. Men's overall health is in decline and men are dying far too young. It is a tendency among men to ignore early warning signs and push forward for the 'all mighty buck'. Men are far less likely to talk about their physical or emotional problem. Movember is all about men speaking out and raising the awareness of serious health concerns.
Cardiovascular disease whether it be heart disease or stroke, is the l...
Read Full Post »